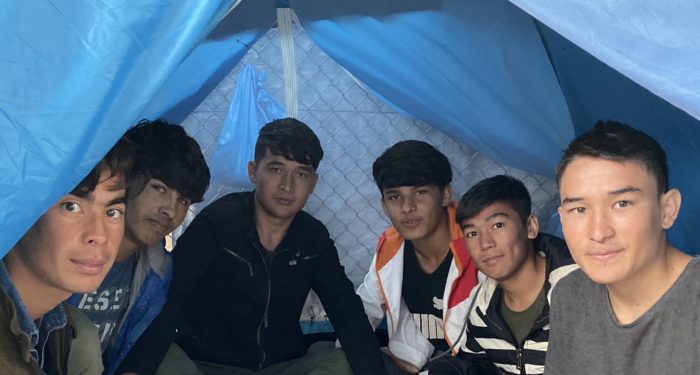 At 14:30, the buses departed with 500 refugees left behind. The police then threw canisters of tear gas into the crowd of refugees, to disperse them. The police then chased the refugees through the streets with the battle gear.  The volunteers and many residents were baffled at what took place. Some had trouble breathing due to the tear gas. None of the refugees were showing any aggression, yet they were treated like criminals. 
On Tuesday night, the police controlled the usual areas (Saint Chapelle, Porte d'Aubervillers, and Pantin) to ensure the refugees weren't setting up camp again, anywhere. They'd wake them up at midnight and make them move again.  Many were refugees who haven't slept in 48 hours, who haven't eaten since Monday night. 500 refugees (mostly young adults), wandering the streets of Paris after their camp was closed and tents confiscated, looking for a place to sleep. 
Serve the City Paris activities, and last year's 100 night shelter program, allowed our volunteers to get to know many of these young men by first name. Many of our volunteers developed relationships with these young men and found them to be gentle, grateful, intelligent, trustworthy and excited to be in France. The young men this season are mostly Afghani, middle Eastern and some South African young men who had no choice but to leave their villages to find a better life in France.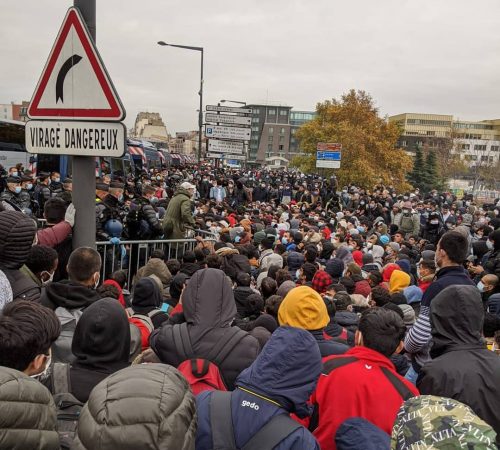 What we're doing, and how you can help 
Due to the Covid19 pandemic, 100 Nights of Welcome cannot run this year using the gym of the American Church… (the American church is effectively closed during confinement).  As a result, the 100 Night Shelter Team and Serve the City Paris are still moving forward to find shelter alternatives for these young gentlemen.  After an extensive period of research on many different shelter options, we have developed two programs: Asking for your help to house a refugee, or to donate to rent rooms for the young adults to stay in shared apartments.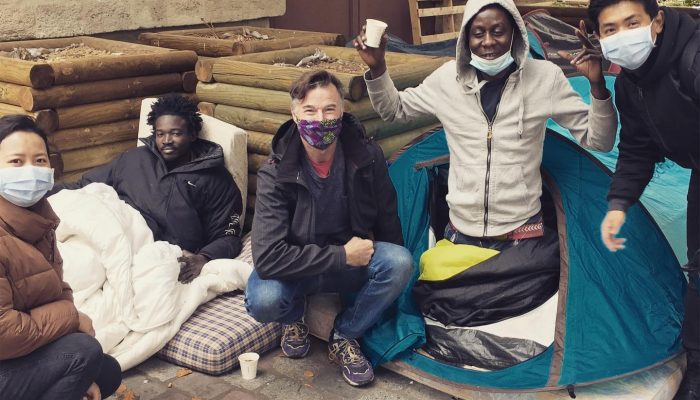 Host a young refugee in your home
We are kindly asking those who have room, to take in a refugee in need this winter. The period of time can be a minimum of 1 month to a maximum of 3 months.  
Anyone willing to house a refugee will receive 250 euros per month for each refugee.   In addition, mattresses and bedding are provided.  Although these young men have proven to be grateful and well mannered, they will be required to participate in an Orientation screening where we review the "do's and don'ts" (no smoking, no alcohol allowed, etc) with each of them.   No refugee will be allowed to stay in someone's home without taking a Covid19 test (paid for by STCP and ACP) within 24 hours and passing negative before the shelter begins.    
The Serve the City Paris team and the 100 Night shelter team will stay in close contact with both the participants providing the shelter and refugees involved.    
*We should note that some volunteers have offered to give up their apartments to refugees when they plan to travel for the holidays.
For anyone interested in helping out with this program, or if you have more questions, please send us note to findshelter@servethecity.paris 
Donate for an apartment or hotel room
Our second program involves providing shelter for these young refugees by providing apartments from AirBnB and hotel rooms for the young men.    Most hotels and hostels are closed, and amongst those open, the best negotiated rates are around 15€-20€ a night per person.   
During Covid, many apartments in Paris are empty and will host a group from month to month.    Serve the City Paris and the 100 Now team will take on the responsibility (and liability) for the lease of the apartment.   Daniel (see video below) and Lisa Tostado, Jonathan Schmutz and other members of the team have offered to give up their current apartments just to chaperon the young man by staying at the apartment with them during the evenings.    You can also volunteer to be a chaperon.
Any financial donations will go 100% towards paying for either the apartment or the hotel rooms. 
If you wish to donate to this specific program, please kindly donate HERE
If you have more questions about this program, please send us a note to findshelter@servethecity.paris 
For those who want to give material items, our partner association Chaubertin, has a list of goods that the refugees need HERE:
Regardless of the circumstance of lack of shelter, we must continue to be a source of  generosity and stability in these young men's lives.     It's only by showing them our support, generosity and 'welcome', that we can make an impact in our imperfect world.  
Ce mois décembre est catastrophique pour les réfugiés. Le camp qui accueillait entre 2000 et 3000 réfugiés à Porte de Paris a été évacué le 17 novembre dernier, mais plus de 400 personnes sont restées sans solution d'hébergement. Serve The City et l'eglise américaine de Paris appellent chacun à ouvrir leur porte généreusement pour accueillir ces personnes abandonnées. Pour chaque réfugié accueilli, l'hôte recevra une aide de 250€ par mois (de 1 à 3 mois). Des matelas et literie peuvent être fournis. Les réfugiés suivront un parcours d'orientation et de sélection, ils seront testés par rapport au COVID-19. Si vous ne pouvez pas accueillir, vous pouvez aussi nous aider à financer le loyer d'un réfugié. Pour plus d'information sur l'une ou l'autre des options, vous pouvez aussi nous contacter à cette adresse : findshelter@servethecity.paris.