Our volunteers are the lifeblood of Serve the City Paris, and there are many ways in which to get involved. However you choose to donate your time and skills to our work, you will make a real difference to the lives of others.
Some current projects which we would love your help with include: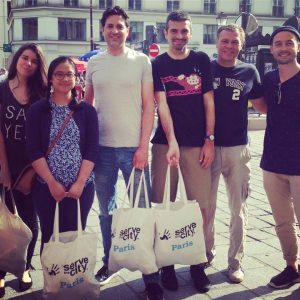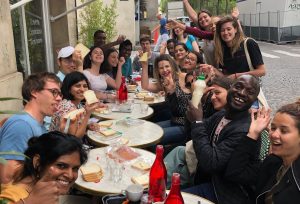 Food Distribution
We meet at la Caféothèque in the Paris 75004, on Tuesday, Friday and Saturday, starting from 9am, (and on Thursday's at metro Stalingrad at 8:30am).
After coffee (and a chance to socialise!) we head off individually or in small groups to distribute surplus food – kindly donated by Prêt a Manger – to homeless people on the streets of Paris.  We usually are finished by 12 noon.   All new volunteers are briefed before going out to distribute and are accompanied on their first day by an experienced volunteer.
You can take part in as many of these weekly sessions as you wish or, if your time is more limited, join us on an ad hoc basis. If you're really keen, you may wish to help with the pre-distribution food collection from Prêt a Manger.
To sign up, please go to https://www.meetup.com/Serve-the-City-Paris-Charity-food-distribution/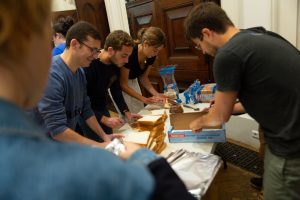 Corporate and Social Engagement 
If you are an employee of a company, or a part of a group or university, help support Serve the City Paris by partnering with us for an event, a workshop or an organized community service activity.
Serve the City Paris offers programs for groups such preparing food together, and/or delivering food to refugees and the homeless in Paris.  We offer team building exercises, presentations from guest speakers, and workshops for corporate groups.
Our workshops include an educational program called "Journey to Paris", which includes an team building exercise, preparing food for refugees, and hearing from one of our refugee beneficiaries who explain their story of coming from another country seeking Asylum in Europe.    Our workshop "From Success to Significance" is designed for executives or senior managers seeking purpose in their leadership roles and it includes a community service activity.  Other programs can be customized, or they can be combined with our other non-profit local partners.
For over 10 years, Serve the City International has been providing socially responsible workshops and community service oriented activities for large and small organizations worldwide.   Programs can also be extended for organizations interested in providing an event, workshop or service activity on an international scale.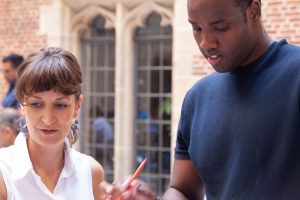 Help Foreigners in Need (P.A.I.R.)
Integrating into a new country and a new city for the first time can be a challenge. Though Paris is an international city, sometimes integrating with the French culture, finding employment, or finding community can be difficult without someone's support who has already made this transition.  The Serve the City Paris team of volunteers who have made this transition successfully can play a vital role in supporting newcomers to our great city.
Our volunteers share their experience and help other foreigners through our program called "P.A.I.R.", (Program to AID and Integrate Refugees).  The overall P.A.I.R. program helps asylum seekers, refugees and expat foreigners with the delicate subject of interracial and cultural integration, finding work, preparation for the French residency interview, or just to help foreigners to France remain positive and optimistic.
There are classroom training courses offered to asylum seekers and refugees each month of the year.   The STCP team also works with our volunteers to 'pair' them with a new foreigner, whether that foreigner is an asylum seeker, refugee, an new immigrant, or an new ex-patriot foreigner.  The volunteer can provide all different levels of support, whether it's help with a language, learning about the France registration process, learning how to find work, attending a STCP event together, or participating in one of STCP's philanthropy projects.
A training course is mandatory for working under P.A.I.R., which is offered once a month.  The  training covers subjects relating to integration, the do's and don'ts of communication, and best practices to use when engaging with a foreigner.   The training can also help the volunteers find the right STCP program to participate in.
To learn more, or to find out more about the monthly training course and when it's offered, please send an email to info@servethecity.paris.
Teach the English and French Language to Refugees and to the Underprivileged
Learning French is essential to integrating into the French culture and to find employment in Paris.  Learning English is also helpful to find work in Paris, to network, or to integrate with the international community.
There are two types of language training programs we offer.  If you are an experienced instructor, standard instructor-led courses are offered through Serve the City Paris.  Please contact us with your resume at info@servethecity.paris.
If you are new in teaching, or if you would like to learn how to teach refugees the English or French language, we offer a conversational format of training, where instructors are paired up with a refugee in a classroom environment, offered every Thursday night in the 75011 of Paris, from 19h to 21h.  French language courses for refugees are every 1st and 3rd Thursday of the month.   English courses for refugees are every 2nd and 4th Thursday of the month.
During this conversation course, instructor volunteers are matched across the table with an individual refugee beneficiary, to have a conversation in English or French by following a script. Instructors ask the questions..the students respond, and corrections are made after the student is given a chance to speak.    Then every 10 minutes, each instructor rotates one seat over to meet someone new and talk English or French by following a new and different script.   The session lasts 1 hour.  The sessions are usually followed by a community meal from 20h-21h where our conversations can continue.   We ask that the volunteers bring a food item such as bread, fruit, cookies or a salad to share with the refugees.
You don't have to be a trained language instructor to teach English or French conversational format (we ask for B1 level French and English).    To participate, we only require each volunteer to take our 2 hour language training & Orientation workshop, to learn best practices of teaching a language and communicating with foreigners.
To learn more, or to sign up for a weekly language training session, or to sign up for our monthly Instructor Orientation and Language Training workshop, please visit us at our Meetup page: https://www.meetup.com/Serve-the-City-Paris-Charity-food-distribution